Scientific, Public Health and Technical Advisors
The Radiation Research Trust (RRT) are leading supporters of the precautionary approach to Electromagnetic Radiation (EMR) and as such advocate release of substantial research funds from Government and Industry. We are indebted to Independent Scientific, Public Health and Technical Advisors who have agreed to give advice to the RRT acting in good faith and without prejudice giving their time freely. The charity has benefited from the advice of:
Alvaro Augusto Almeida de Salles (Brazil)

| BSc MSc PhD | CV
Electrical Engineering Department, Federal University of Rio Grande do Sul

Alfonso Balmori (Spain)

| PhD | CV

Dr Grahame Blackwell (UK)

| PhD | Website

Roger Coghill (UK)

| MA(Cantab,) C Biol MI Biol MA(Environ Mgt) | Website
Sometime Senior Visitor, Emmanuel College, Cambridge>

Dr Devra Davis

| BSc | Biography

Dr Ian Dring(UK)

| PhD | CV

Joe Foster (USA)

| International Association of Firefighters | Weblink

Susan Foster (USA)

| CV

Dr Andrew Goldsworthy (UK)

| BSc PhD | CV
Honorary Lecturer in Biology at Imperial College, London

Professor Oleg Grigoryev (Russia)

| CV
Head of Laboratory "Radiobiology and Hygiene for Non-Ionizing Radiation",
Federal Medical Biophysical Centre of Federal Medical-Biological Agency of Russia

Professor Yury Grigoryev (Russia)

| CV
Chairman of Russian National Committee on Non-Ionizing Radiation Protection

Örjan Hallberg (Sweden)

| CV

Professor Magda Havas (Canada)

| BSc PhD
Associate Professor of Environmental & Resource Studies at Trent University

Mae-Wan Ho (UK)

| BSc PhD FRSA | CV

Dr Isaac A. Jamieson (UK)

| DIC RIBA DipAAS BSc(Hons) MInstP

Professor Olle Johansson (Sweden)

| CV
Associate Professor of The Experimental Dermatology Unit, Karolinska Institute Stockholm

Professor Henry Lai (USA)

| CV
Department of Bioengineering, University of Washington

Dr. Lukas H. Margaritis (Greece)

| PhD PrivDoz | Website
Professor of Cell Biology and Radiobiology, Athens University

Lloyd Morgan (USA)

| CV
Director of the Central Brain Tumour Registry of the United States

Professor Mike J O'Carroll (UK)

| MA MSc PhD CMath CSci FIMA
Professor Emeritus and formerly Pro Vice-Chancellor, University of Sunderland

Dr Gerd Oberfeld (Austria)

| MD | View CV
Salzburg public health advisor

Alasdair Philips (UK)

| BSc DAgE MIAgE | Website
Director of Powerwatch

Prof. Dr. Nesrin Seyhan

| CV
Director, Gazi Non-ionizing Radiation Protection Center - GNRP

Zamir P. Shalita (Israel)

| PhD | CV
Consultant on Electromagnetic & Chemical Hazards

Barrie Trower (UK)

| BEd

Dr John Walker (UK)

| PhD CPhys MInstP

Stelios A Zinelis (Greece)

| MD BA | CV
Download tracks from RRT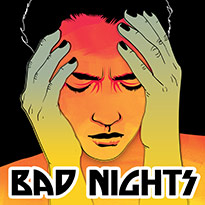 The RRT would like thank Lauren MCnally for the artwork
The RRT needs your help!
Please consider how crucial the RRT charity is and support via financial help so the charity can survive. RRT Trustee Steve Miller aka Afterlife is one of the most successful chill out artists in the world. Steve suffers with electrosensitivity and has kindly donated a track to RRT including 4 mixes to help raise funds to create more awareness about this very serious problem. The Government has failed to support people suffering with electro sensitivity (EHS) in the UK and we must right this injustice. Offer you support by purchasing the track "Bad Nights".
Download here and enjoy!