Parents' fears over antennae at schools
SWINDON Council is trying to quell parents' fears as it installs microwave antennae at a number of schools. The equipment uses wi-fi internet signals using microwave radiation, similar to that used by mobile phones. One campaign group has written to the council claiming they can be dangerous. And the head of one school affected told the Advertiser she knew nothing of the plans, until she was contacted by a worried father.
EDIT: 22nd February 2011: Swindon Borough Council have announced the withdrawal of the planning application for the microwave antenna, much to the happiness of the local residents.
Download tracks from RRT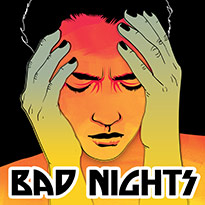 The RRT would like thank Lauren MCnally for the artwork
The RRT needs your help!
Please consider how crucial the RRT charity is and support via financial help so the charity can survive. RRT Trustee Steve Miller aka Afterlife is one of the most successful chill out artists in the world. Steve suffers with electrosensitivity and has kindly donated a track to RRT including 4 mixes to help raise funds to create more awareness about this very serious problem. The Government has failed to support people suffering with electro sensitivity (EHS) in the UK and we must right this injustice. Offer you support by purchasing the track "Bad Nights".
Download here and enjoy!