Mobile base stations on Tuesday's parliamentary agenda
http://www.independent.com.mt/news.asp?newsitemid=145727
The sensitive issue of mobile base stations has made it to the parliamentary agenda, with Parliament's Social Affairs Committee due to discuss the issue at length on Tuesday. The discussion will revolve around the potential threat posed to children. In addition to interested parties from the public, the meeting will hear from representatives from the Ministries of Health, Education, Infrastructure and Communications, the Malta Communications Authority, Mepa, environmental NGOs, and the countries three mobile telephony providers.
To continue reading download the PDF here
Download tracks from RRT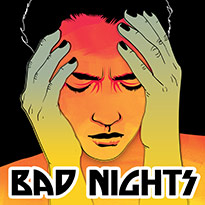 The RRT would like thank Lauren MCnally for the artwork
The RRT needs your help!
Please consider how crucial the RRT charity is and support via financial help so the charity can survive. RRT Trustee Steve Miller aka Afterlife is one of the most successful chill out artists in the world. Steve suffers with electrosensitivity and has kindly donated a track to RRT including 4 mixes to help raise funds to create more awareness about this very serious problem. The Government has failed to support people suffering with electro sensitivity (EHS) in the UK and we must right this injustice. Offer you support by purchasing the track "Bad Nights".
Download here and enjoy!