Most Significant Government Health Report on Mobile Phone Radiation Ever Published
Today, the World Health Organization's (WHO) new monograph on cancer risk from mobile phones and other sources of RF radiation is featured on the home page of the WHO's International Agency for Research on Cancer (IARC).

Continue reading here
Letter to WHO
Dear Drs. Baan, Straif, and Gaudin,

The UK Radiation Research Trust formally gives notice objecting to the World Health Organisations misrepresentation of the IARC 2B classification of RF/EMF.

Continue reading here
Electrosensitivity: is technology killing us?
Is modern life making us ill? Yes, say those who suffer from electrosensitivity. Are they cranks, or should we all be throwing away our mobile phones? More images from photographer, Thomas Ball's on-going project on electrosensitivity
The Round Table Initiative on Cell Phones and Health.
Publication of this is opinion was suggested by the author, Eileen O'Connor. I am very grateful because it gives some insight into the workings of the EU Stakeholders group.

The EU Stakeholders is the "reason" that Michael Milligan of MMF used as a justification to not participate in The Round-Table Initiative.

continue reading here: http://roundtableinitiativeoncellphones.wordpress.com/

Download details and presentations about the Stakeholder meeting at the EU Commission via the following link: http://iemfa.org/index.php/actueel-mainmenu-6
EU Commission, Brussels – Stakeholder meeting
20th February, 2013

Board members from the International EMF Alliance, Eileen O'Connor, Alex Swinkels and Kerstin Stenberg along with Dr Isaac Jamieson provided talks and evidence towards the precautionary approach to wireless communication from mobile phones, phone masts, wifi at a Stakeholder Group at the EU Commission, Brussels.

Read full article here

Eileen O'Connor's Speech
European Commission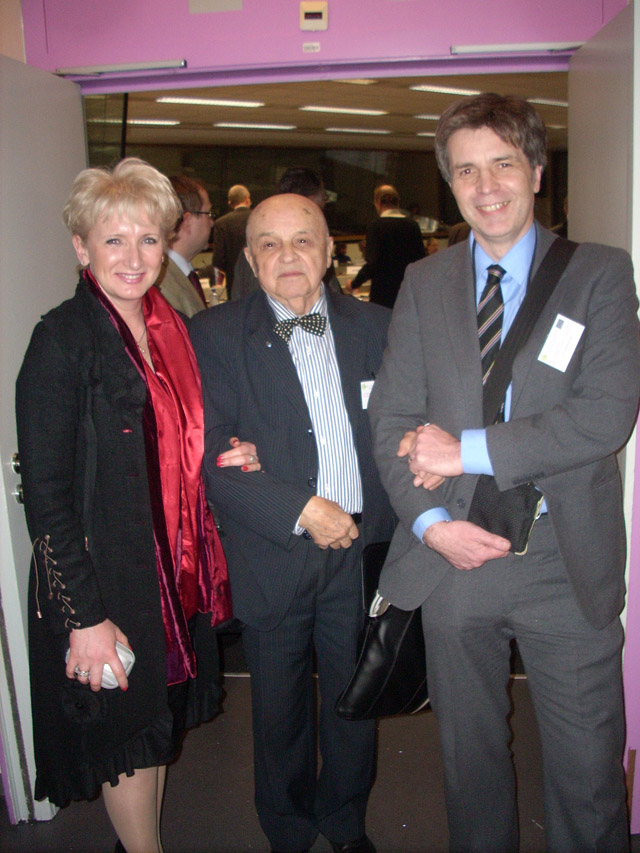 Eileen O'Connor, Professor Yury Grigoriev and Dr Isaac Jamieson
Electromagnetic Man
Click here to go to Electromagnetic man website
Professor Oleg Grigoriev
Video footage available from the UK EM Radiation Research Trust meeting June 2015 featuring Dr Erica Mallery Blythe, Dr Viktoria Akekessva and Professor Oleg Grigoriev, Head of the Scientific Department of Non-Ionizing Radiation, Federal Medical Biophysical Center of Federal Medical Biological Agency of Russia and Chairman, Russian National Committee on Non-Ionizing Radiation Protection – View: here
Feed Entries