In Spite of CTIA's Denial that any Health Problem Exist, the Evidence Is Overwhelming that Cellphone Radiation is Causing Adverse Health Effects.
Download document here
'Casualty catastrophe'
Insurers stop covering for cell phone use, called the next 'casualty catastrophe' after tobacco and asbestos; phone manufacturers hit with a class action and personal lawsuits; and the warning deep inside your mobile.

Read full article here
Anses "Radiofrequencies and health" expert appraisal
The opening para of the attached ANSES media release (from France) concludes:

"It will also be further developing its work on electro-sensitive individuals, specifically by examining all the available French and international data on this topic that merits closer attention."

Read the PDF here
Case-control study of the association between malignant brain tumours diagnosed between 2007 and 2009 and mobile and cordless phone use
View case study here
Download tracks from RRT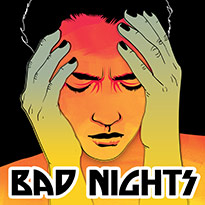 The RRT would like thank Lauren MCnally for the artwork
The RRT needs your help!
Please consider how crucial the RRT charity is and support via financial help so the charity can survive. RRT Trustee Steve Miller aka Afterlife is one of the most successful chill out artists in the world. Steve suffers with electrosensitivity and has kindly donated a track to RRT including 4 mixes to help raise funds to create more awareness about this very serious problem. The Government has failed to support people suffering with electro sensitivity (EHS) in the UK and we must right this injustice. Offer you support by purchasing the track "Bad Nights".
Download here and enjoy!

Feed Entries